Dental Implants – Melbourne, FL
Replacement Teeth That are Lifelike in Every Way
Dental implants in Melbourne are a modern solution for tooth loss that we recommend for patients looking for a longer lasting, more stable treatment option. Utilizing advanced techniques combined with the advantages of traditional restorations, they're able to restore the entire structure of teeth for a lifelike look and feel. To learn whether you're a good candidate for this procedure, give our dental office a call to schedule a consultation with Dr. Rowley today!
Why Choose Rowley Family Dentistry for Dental Implants?
Start-to-Finish Dental Implant Treatment
Skilled & Trustworthy Dentist & Team
Modern, Newly Remodeled Dental Office
What Are Dental Implants?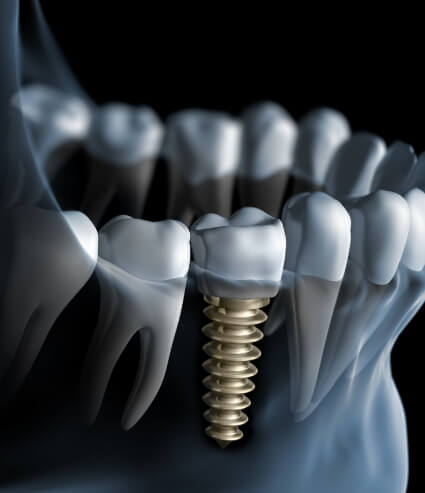 Dental implants are small titanium posts that are surgically placed below the gumline and into the jawbone. Because titanium is a biocompatible material, the implants are able to fuse with the jawbone through a process called osseointegration, providing the structure with blood flow and keeping it from deteriorating over time. Once this has occurred, a customized restoration can be attached to the implants, restoring the missing teeth.
The 4-Step Dental Implant Process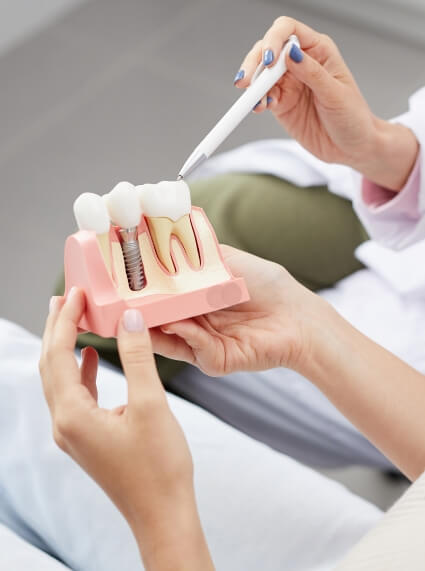 The Initial Consultation. At your initial consultation, our team will conduct an examination of your mouth and capture X-rays. This will help us create a treatment plan that we can walk you through so you know what to expect throughout the process.
Dental Implant Surgery. Dr. Rowley places dental implants himself, so you won't have to worry about having to travel to go to a different provider in the middle of the treatment. He'll make small incisions in the gumline and will place the implants into the jawbone.
Osseointegration & Abutment Placement. Over the course of three to six months, osseointegration will occur, where the implants will fuse with the jawbone. Once that is complete, our team will place small metal connector pieces called abutments atop the implants.
Attaching the Permanent Restorations. After the gums have healed around the abutments and we've received your customized permanent restorations, we'll attach them to your implant posts to complete your smile.
Benefits of Dental Implants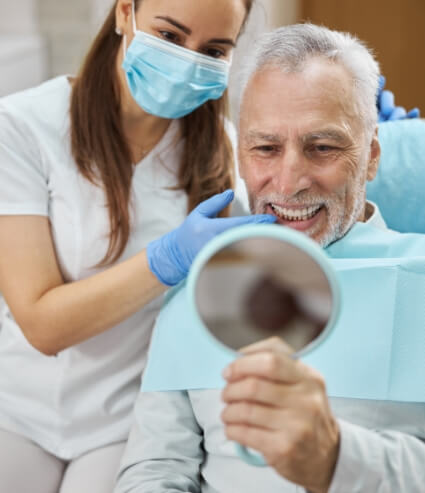 Dental implants offer a range of benefits that distinguish them from other traditional restorative dentistry treatments. Some of these include:
Preservation of facial structure
Prevention of jawbone deterioration
Easy maintenance
Lifespan of 30+ years with the proper care
Versatile treatment that can replace one, several, or all teeth
Natural looking and feeling replacement teeth
Improved eating and speaking abilities
No need for adhesives
Up to 80 percent restored bite power
Who Dental Implants Can Help
Some patients who are looking into getting dental implants may not be ready to go into surgery right away and could require preparatory treatment first. This is to ensure the implants fuse with the jawbone, which is crucial to the success of the entire process. During your initial consultation, our team will walk you through your treatment plan and let you know how we plan to restore your smile so you know what to expect.
Missing Single Tooth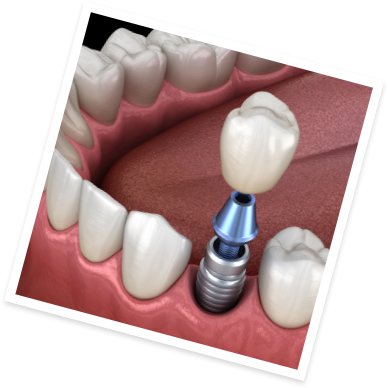 If you're missing a single tooth, we'll place one dental implant below the gumline and allow it time to fuse with the jawbone. Once it has, we'll attach a dental crown to the abutment to fill the gap in your arch.
Missing Multiple Teeth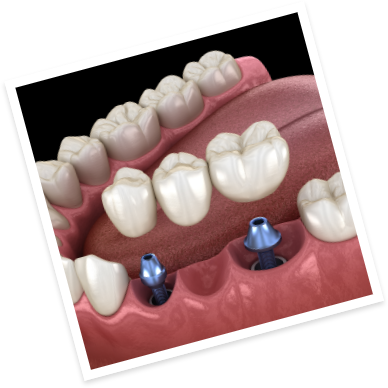 Instead of needing to alter the structure of your natural teeth by securing a traditional bridge to them, we can place two dental implants below the gumline an either side of the gap in your smile. This will provide your restoration with a sturdy and unwavering foundation to be attached to.
Missing All of Your Teeth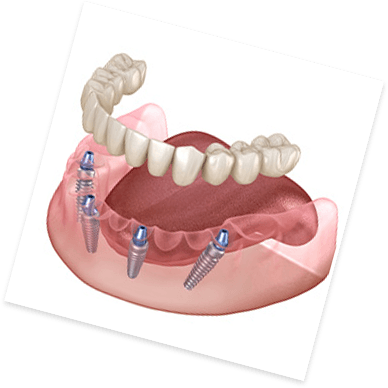 To restore an entire arch of missing teeth, we can place anywhere from four to six implant posts along the row. Once fused with the jawbone, we can attach a complete denture to the implants. This will eliminate any slipping or shifting that you might experience with a traditional denture.
Understanding the Cost of Dental Implants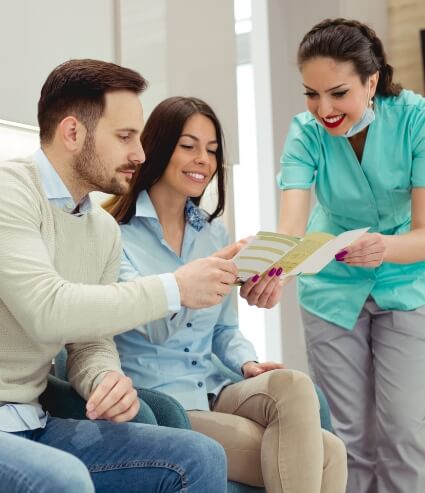 We personalize every dental implant treatment we do to our patient's individual needs, which is why there's no singular cost attached to it. Based on factors like how many implants you need to have placed and whether you need a preparatory treatment, the price of your overall procedure can vary. Our team will provide you with a detailed estimate at your consultation and walk you through all of your payment options.
Dental Implant FAQs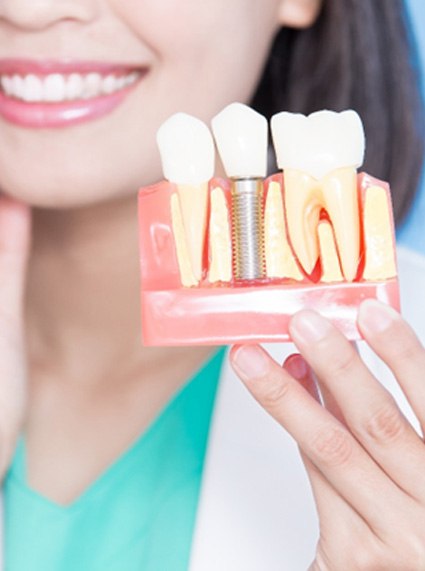 Perhaps you're now seriously considering dental implants. If so, that's great news – you can count on these prosthetics to fully restore your grin! Still, you ought to learn more about them before committing. Doing so ensures you know what to expect from treatment. As it happens, though, we at Rowley Family Dentistry can help: listed below are the answers to some oft-asked implant questions. Please give them a read to see how our restorations work. As for other details you need, feel free to book a consultation book a consultation with us to learn more.
Does Getting Dental Implants Hurt?
Luckily, implant placement is painless; we work to make it smooth and comfortable. Dr. Rowley, you see, will numb your mouth before treatment even begins. You'll likely be sedated as well, thus lowering your body's ability to register pain. The jawbone has few nerve endings in the first place, so these steps will ensure an easy procedure.
Admittedly, your mouth may feel a tad sore after the surgery. The anesthetic and sedation, after all, will eventually wear off. However, this ache is temporary and fades quite quickly. You can also manage it with over-the-counter pain medication. If your discomfort worsens after two or three days, call us immediately.
Will I Have to Take Off Work for Dental Implant Surgery?
Unless it's a special circumstance, you should take off some work for implant placement. As for how much, that'll depend on your unique case.
If your job is largely sedentary, you only need to take off one or two work days. Odds are your daily tasks wouldn't upset your recovery. Furthermore, you'd be well enough to do said tasks – any disruptive side effects from the surgery will have faded at that point.
Things change, though, if your job is physically demanding. In that case, you should take three or four days off. Heavy exercise could divert blood from the implant site and delay healing. To compensate, you could book your procedure on a Thursday or Friday.
Do Dental Implants Feel Natural?
In the long run, yes – dental implants feel quite natural. It's to the point where you may forget their presence once enough time passes.
You see, implants are biocompatible. Their titanium bases let them naturally fuse with your jawbone. As such, they act and feel exactly like ordinary tooth roots. They thus don't stand out from your other natural teeth.
Also, keep in mind that implants have no nerve endings. Any sensations you feel near them – heat, cold, pressure – come from the surrounding gums.
How Long Do Dental Implants Last?
Dental implants are typically the longest-lasting restorations. Unlike dentures or bridges, their average lifespan is 15-20 years. That said, an implant can last for 30 years or more with proper care.
Of course, you must be mindful if you want your implants to last long. To that end, you should brush, floss, and rinse with mouthwash daily. Plus, you'd be wise to attend regular dental checkups and cleanings.